Three Is A Crowd, Especially On My Tele-Phone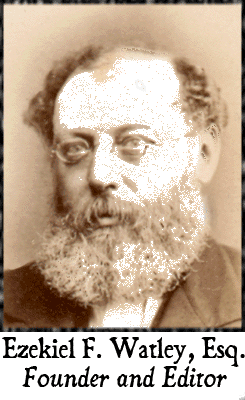 May is a time of Rebirth and new Beginnings. In the Middle Ages, the first of May marked the onset of verdant Spring, and hence is the setting for Far, Far too many chivalric Romances dwelling upon the pursuit of metaphorical Flowers. But in our offices, May is a celebratory event because it is the Anniversary of this publication's Founding. It is perhaps Coincidence that the earlier, less Successful versions of The Watley Review begun by my estimable Father and Grand-father, respectively, were both founded in October; whereas my father's Fishmongery, founded in May, became a Thriving business for many a Year. Clearly, it is an Auspicious time of Year for the Watleys.
As I am Blessed by many goodly colleagues who are as Thoughtful as they are stout of Heart and Spirit, this time of year is ever replete with congratulatory Tele-grams and the like. I even get the occasional Tele-phone call, from the more Adventurous of my peers. However, I must confess that one such Call this week raised more Questions than congratulatory Sentiments. It all began innocently enough when my good friend Seymour Q. Haversham "rang me up" on Tuesday morn.
"Ahoy ahoy, Watley old fellow!" his voice boomed through the ear-piece (most of my colleagues are wont to speak Forcefully and with Vigor, as most of us are rather hard of Hearing). "I see you're still in business!"
"A Journalist's Work is never Done!" I chortled in reply. (Chortling is a mode of expression eminently Suitable for the tele-phone; if you are not in the habit of Doing so, I recommend you Practice.)
And then, a Sneeze crackled through the line. Hardly a noteworthy event, even for the Slowest of tele-phone calls, except that both Haversham and I said "Bless you!" at very nearly the same instant. We were Astonished, to say the least.
"Watley, is your benighted nephew Eavesdropping again?" Haversham asked. "Tell him I keep my cheque-book Locked in the Safe, and that I am Fully prepared to defend my daughter's honor with the family Musket."
A quick glance confirmed that Ephram was in fact snoring uncouthly (can one snore couthly? Certainly not he!) on the news-room Couch. And then - zounds! - another sneeze.
"Excuse me," said a sniffling voice that I knew all too well: Mabel, the switchboard operator at our local Tele-phone Exchange. Indispensable though she may be, she is a Notorious gossip, to the point where the city Council enacted Legislation some years back to Prevent her from "dropping in" on conversations.
"Mabel," I thundered, "have you such Disregard for the laws of our fair city as to Defy its statutes?"
"On the contrary, Mr. Watley," she said smoothly, "I really shouldn't say very much, but I'm only doing my patriotic Duty."
"Confound it, madam," spluttered Haversham, "if I want my conversations Listened to, I'll take them to the Town Square! A tele-phone line is a Private communication! Unless you have a Warrant, cease your infernal Spying at once, lest I contact the Authorities!"
A blessed silence fell upon the Line, and we both muttered in our Beards at the impertinence and Outrage of this violation.
Finally Haversham noted, "Watley, I deeply fear for the state of a Country where it is considered Acceptable - nay, Patriotic even - to spy upon one's fellow Citizens without cause and with impunity. It is an Opprobrium of the highest degree."
But then, as we commiserated over the state of our Nation in a dignified moment of Silence, the dreaded voice crackled once more on the line:
"Is that 'opprobrium' with one 'p' or two?"